High bounce rates are costly and indicative of problems with operational processes and business management.
A rising bounce rate shows that potential customers are leaving your product or service page without making a purchase. These are web visitors who enter your site and leave ("bounce") instead of proceeding to view other pages within the same website.
This exit rate affects your business revenues, but it is essential to understand that all eCommerce outlets, including the most successful global brands, experience bounce.
Companies cannot reduce the bounce rate to zero because there always are customers who are not ready to visit other pages on the same site or make a purchase.
To understand how to control the exit rate, this article will tackle the definition of the term, causes, tools to detect it, and 10 best ways to improve your eCommerce bounce rate.
What is a bounce rate?
Benchmark bounce rates by website type – Image Credit: growcode.com
Bounce rate refers to the level of site visitors who leave your eCommerce website immediately after clicking on one page. It is calculated as the proportion of single-page visitors to total visitors, expressed as a percentage. It symbolizes visitors who land on the product page but exit without interacting or taking further action during that session.
Bounce rate (%) = No. of visits accessing only 1 page/ Total no. of website visits
According to HubSpot, the general bounce rates to look out for by sector or industry are 40-60% (content websites), 30-50% (lead generation), 70-98% (blogs), 20-40% (retail sites), 10-30% (service sites), and 70-90% (landing pages). Still, eCommerce websites should aim for a low bounce rate as possible by keeping visitors interested in their content, products, and services, and potentially converting them.
Causes of bounce rates
If you manage an eCommerce website, you want visitors to convert by accessing other webpages on the same site, start buying items on sale, read more content, or fill out a signup form.
However, if there is a bounce, it could signal that the visitor did not find what he or she was looking for or the webpage was too complex to navigate. Other causes of bounce rates include:
A visitor clicking on a website accidentally.
Few relevant pages.
Visitors cannot understand or locate the site navigation.
The site appearance and graphics turn visitors away.
The content (text, images, and video) is unappealing to the visitor.
The web pages load too slowly.
Intrusive popups and ads affecting customer experience.
There is no eCommerce call to action.
Tools to detect bounce rates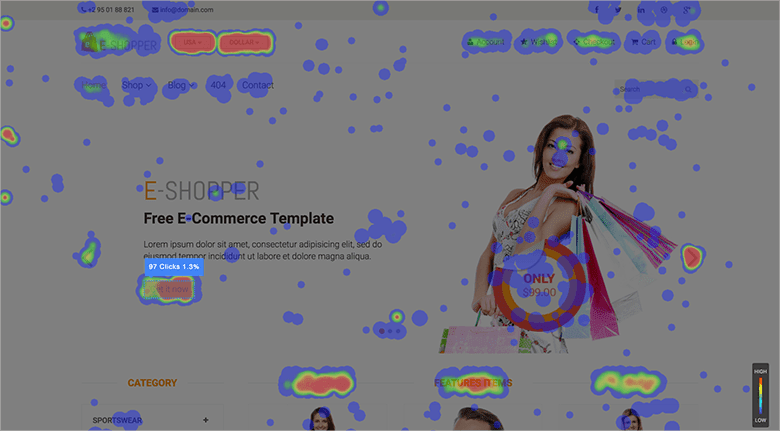 Google Analytics will not tell you why visitors are bouncing from your website. You need to gather more data and insights using the following 3 tools:
Heatmaps reflect what site visitors see and interact with. It will help you to improve your eCommerce bounce rate by determining if people are seeing the most essential content on the landing page and how many more pages they click on. This content may include brand messages and product information enticing people to scroll further and engage more.
Heatmaps provide data analysis, giving you a glance at what your site visitors scroll through, click on, or ignore. With this information, you can identify trends and optimize your sites for higher engagement.
The following diagram demonstrates an example of a heatmap, which enables you to see where visitors click when using desktop devices or tap their fingers when using smartphones. The color-coding on the map shows the clicked elements.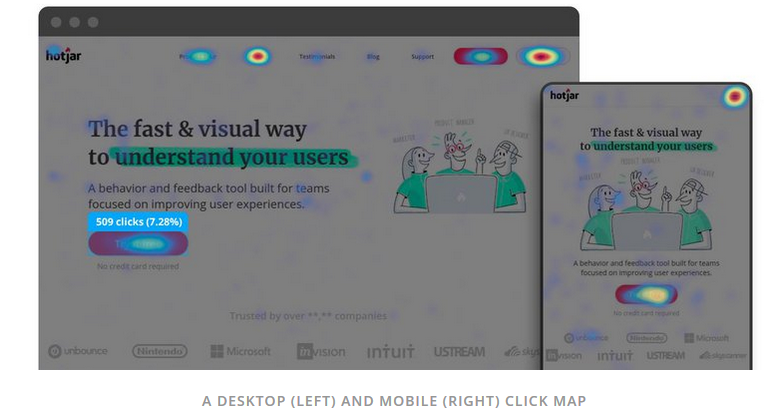 On-site surveys enable you to gather customers' feedback about their experiences, including their questions, expectations, and frustrations. You can ask questions to gauge the quality of service, things they like about a specific page, and factors they would consider when buying items from the website. For instance, you can ask users if the website feels trustworthy, how they heard about your site, and what they found any troublesome pages in need of fixing.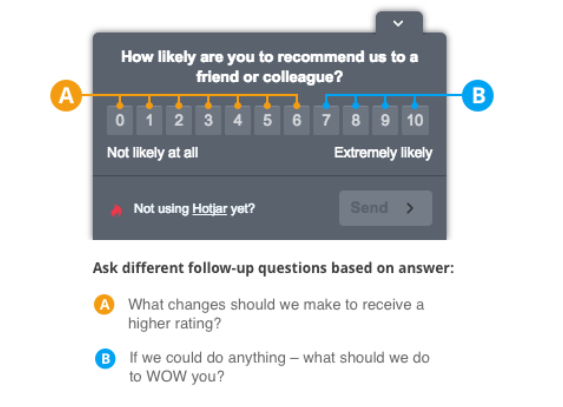 Session recording, also known as session replays, enables you to review user sessions and observe what people do on the web pages before exiting. You can reconstruct the sessions to understand what visitors experienced during a session. Some insights to derive from session recordings are the possibilities of user confusion or frustration (if page elements are non-clickable), the page sections they seem to miss or linger on most, and what users were doing right before the exit.
Now that you understand all about bounce rates, let's discuss the top 10 ways to improve it.
1. Improve page loading speeds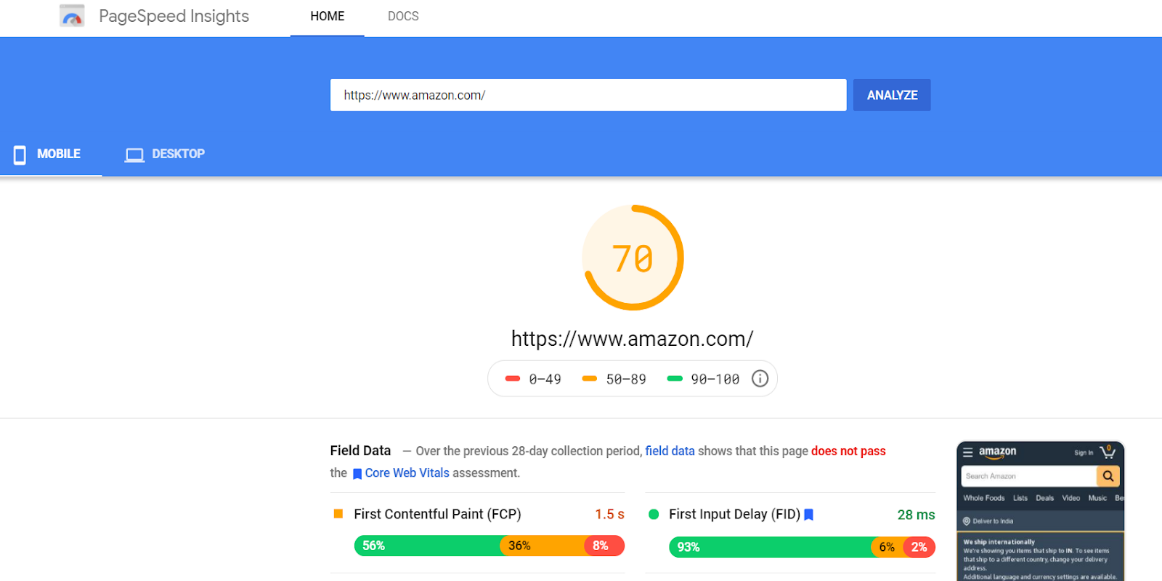 Slow-loading pages can make customers get frustrated and lose interest in your web page. On average, 47% of customers expect your eCommerce web pages to load within 2 seconds or less. According to research by CrazyEgg, a one-second delay in page-load time causes 11% fewer page views, a 16% decline in customer satisfaction, and 7% in lost conversions.
The Sachs Marketing Group suggests that the following factors can contribute to your web page loading slowly:
*Server/hosting – slow speeds can arise if your web hosting company does not have enough resources on their server. This scenario also occurs when you use shared hosting instead of a virtual private server, especially when you operate a large website.
*File types and sizes – many, large files and images will slow down your site.
*Plugins – running too many plugins on your site or using plugins that are not optimized can slow your site down,
*Traffic volume – the amount of data your site can accommodate from visitors can grow smaller as your traffic volume increases, leading to a slower website.
You can still improve your page loading speeds by optimizing your files and plugins and investing in private hosting with the ability to accommodate a high bandwidth as your traffic grows. You can also minimize and combine your files, lower server response time, and adopt more technical measures.
One of the best strategies for improving your eCommerce bounce rate is to ensure you test and analyze your site's speed. You can do so using tools like Google's PageSpeed Insights, which scores and compares your site performance on both the desktop and mobile.

Need help marketing your eCommerce store?
Book a free call to learn how our team of eCommerce experts can help you generate leads, boost traffic and drive MORE sales.
2. Attract the right site visitors
You should reduce the bounce rate arising from the wrong traffic by choosing the right keywords for your content. The goal should be to attract qualified visits, not just the most number of views. You can also develop multiple landing pages with unique keywords and content to suit the needs of different buyer personas.
To optimize your web page for the right visitors, ensure to use meta descriptions to guide search engine users. Meta descriptions are short-form descriptions of a given page or article appearing under the title section of search results.
It influences whether users or Google or other search engines click on your website link or not. It is one of the best ways to improve the eCommerce bounce rate because it directs the right traffic while keeping away the rest.
A good meta description should contain less than 160 characters (120 characters for mobile devices), should contain the page's primary keyword or keyword phrase, and should use a complete and compelling sentence(s).
In addition to writing attractive, useful, and short meta descriptions, you should also ensure your online advertising campaigns target the right audience for an improved bounce rate.
You should perform research to select the appropriate keywords to match your content, create many landing pages with unique keywords and content according to your buyer personas, and target your audience using social media shares and other relevant tactics.
3. Fix technical issues
Finding and fixing site usability issues is one of the best ways to improve your eCommerce bounce rate levels. If visitors cannot navigate or click on items within your web pages, you can expect a high bounce rate.
The main usability issues include:
Websites that don't respond well on specific browsers or mobile
Technical errors like error 404
Broken links and faulty drop-down menus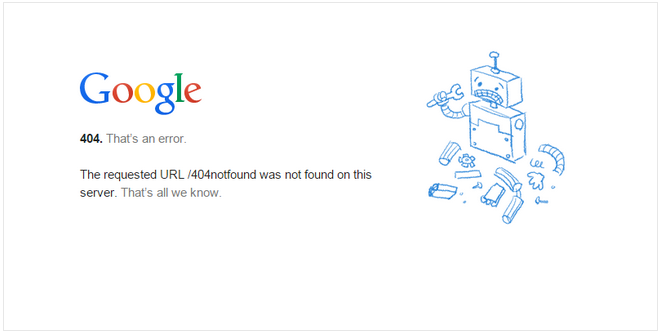 The best way to detect these issues is to conduct usability testing using eye-tracking equipment or by watching session recordings of how people interact with your app or website.
For instance, you can watch session recordings of users' navigation journey. During this process, you can review your high-bounce pages and note down problems visitors are likely to run into. You should then fix the issues promptly.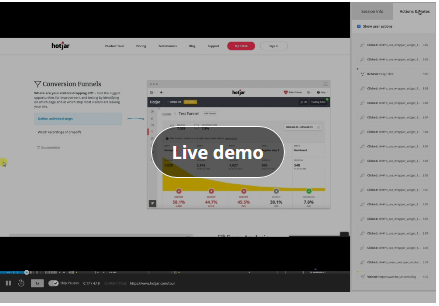 You can also test your pages manually to check if they have any loading problems, links not working, or errors both on the desktop or mobile. Errors are commonplace whenever you introduce changes to your site, making it essential to test your pages whenever you upload new products and content.
You can fix these issues by removing any broken links manually and replace them with functional or correct ones. You can also optimize and update your plugins to ensure they are compatible with your website themes. If unable to fix more technical errors, ensure to engage your site developer for support.
4. Publish quality, trustworthy content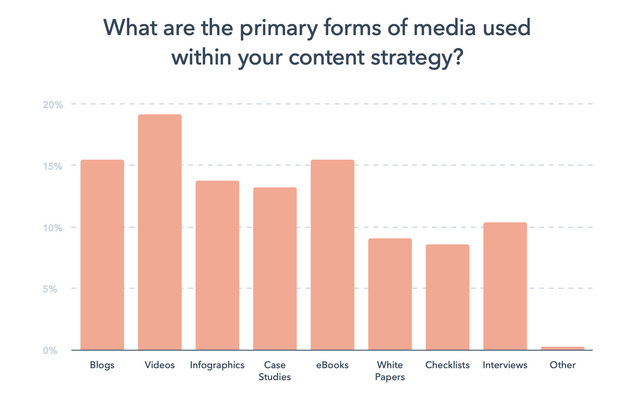 Ensure your website has attractive and customer-friendly images and videos. 84% of web visitors have reported that at one point they were convinced to buy an online retailer's product or service because they watched a video of the brand. You should also invest in quality content.
Keep the following points in mind to keep site visitors engaged and lower the bounce rate:
Have a relevant main message and titles
Use clear headings and subheadings
Use stylish images and colors
Proof-read your content for grammatical errors
Insert a clear call-to-action and links directing customers on the next steps
A look at the Uber website will show you how the brand leverages quality content to keep visitors scrolling and visiting other pages. The "About US" page, for instance, has the following elements:
A relevant title – "We ignite opportunity by setting the world in motion."
Clear headings – "Rides and beyond," "Your safety drives us," "Company info," and "Keep up with the latest," among others. There are plenty of clear subheadings too.
A call-to-action – There is a "Sign Up" button at the top-right corner of the site.
Flawless English.
Stylish images – see below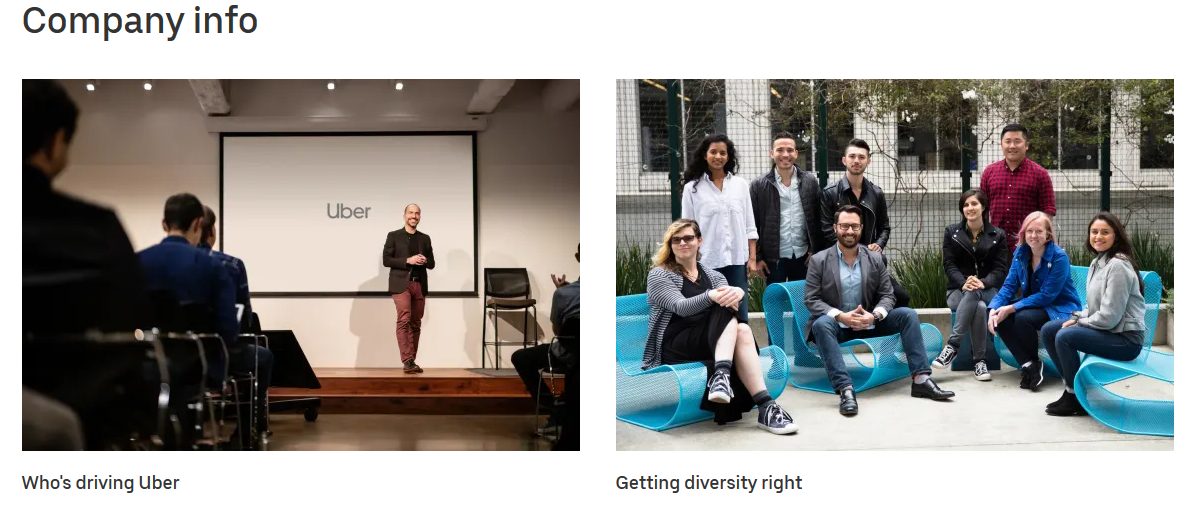 You should also ensure your site looks trustworthy to build the confidence of prospective customers. Many first-time visitors will not buy from an unsecured website, further affecting the bounce rate.
The following steps can help you to improve your site's trustworthiness:
Reduce or remove the number of content-blocking popups on the page. Irrelevant and invaluable popups can frustrate or overwhelm visitors.
Add user reviews and testimonials. First-time visitors will be convinced to look at other pages on your website or even buy your offering if they can see social proof.
Continuously monitor site performance using recordings and heatmaps to evaluate the impact of any changes you make and improve them promptly.
5. Employ upselling & cross-selling tactics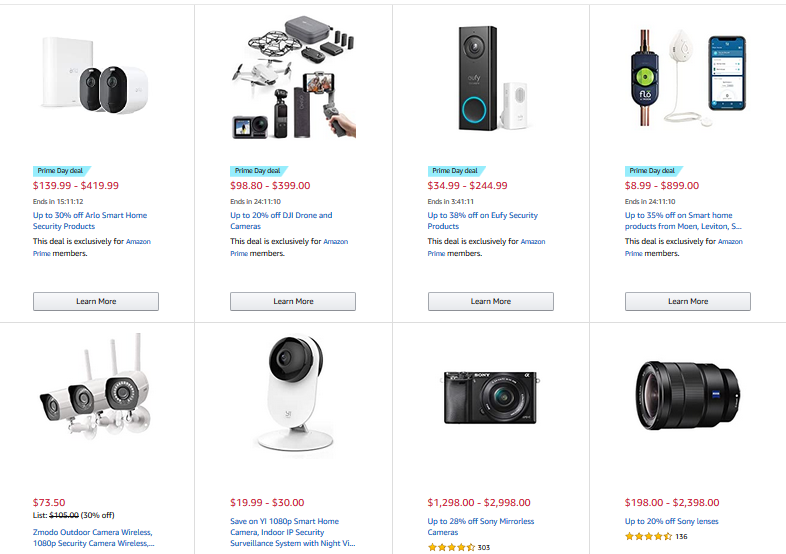 Upselling and cross-selling are among the best ways to improve your eCommerce bounce rate effectively. Upselling is encouraging shoppers to buy a more expensive version of an existing product or service, such as a premium or upgraded package for a software.
On the other hand, cross-selling entails suggesting related, additional, or complementary goods, such as offering customers to purchase ink with a printer.
According to HubSpot, you should employ the following upselling tactics to improve your eCommerce bounce rate:
Understand what customers value or want to determine the best products and services to meet their needs.
Identify and focus your upselling campaigns on customers who clearly have gaps you can close in their current packages or plans.
Start providing the target customers with real returns, value, or benefits as soon as possible to demonstrate your expertise and deepen the relationship.
Provide customers with transparent pricing information, including a breakdown of the timing and costs involved.
Incorporate trends into the sales plan to proactively discover opportunities to upsell.
To implement upselling strategies successfully, you should invest in the right products, have superior knowledge of your products, display/place your products strategically, provide maximum value, and listen to your customers' needs actively.
The best places to place your upsells are at the checkout page or after customers add items to the cart, product pages (enables you to show off multiple product versions), and when your customers reach a given success milestone.
Pro Flowers incorporates upselling strategies at the checkout page.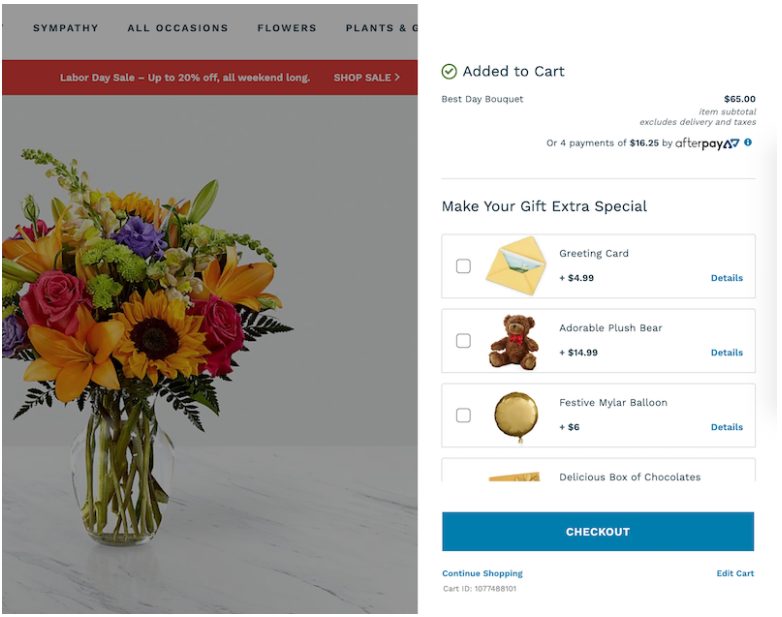 Amazon upsells by displaying and recommending other frequently bought products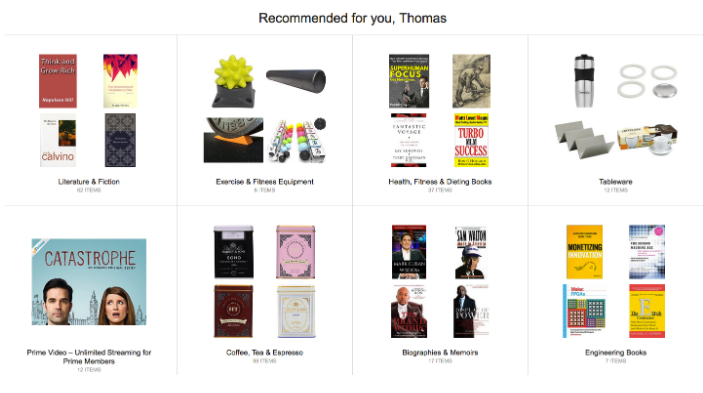 When you upsell and cross-sell, you encourage customers to continue interacting with your web page, lowering the bounce rate while improving conversions. Amazon uses this approach, whereby customers visiting the "camera & photo category," for instance, can also view the Prime Day deals and discounted items. The retailer uses the approach to incentivize customers to stay on the page for long by helping them identify other products and services they might need.
6. Make the website responsive and mobile-friendly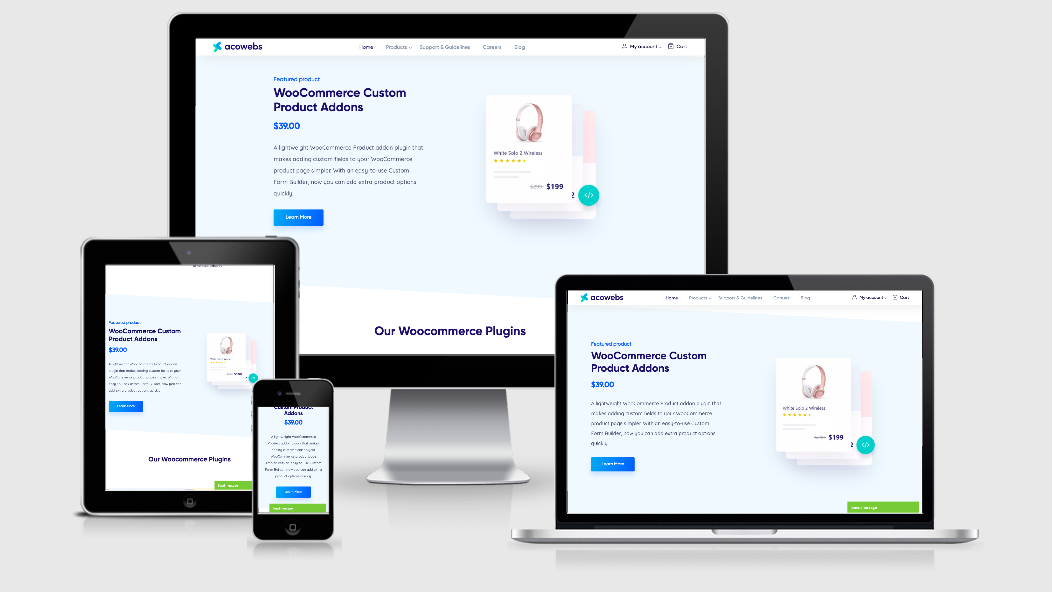 You should optimize your website and its contents for multiple devices, including desktop and mobile.
Statistics by TechJury show that consumers spend more than 69% of their media time on their mobile phones. As of 2019, smartphones accounted for 52% of all web internet traffic globally.
The average bounce rate arising from the use of mobile phones is 60%, compared with about 42% for the desktop.
To leverage the best conversions and improve your eCommerce bounce rate for phone users, ensure your site has a simple WordPress theme, and install the right plugins. This step will ensure your pages are updated often and responsive on the backend.
You can check if your site is mobile friendly using a mobile-friendly test tool from Google. Once you plugin your site URL, you should click on the "ANALYZE" button. WordPress users can use the JetPack plugin or WPTouch plugin.
Other measures to take to make your site mobile-friendly include:
Add a responsive eCommerce theme
Simplify the product menus
Display your calls-to-action clearly
Make the help center easily accessible
Add a search function
When your site is optimized, you capture more smartphone users while improving your eCommerce bounce rate.
7. Invest in intuitive navigation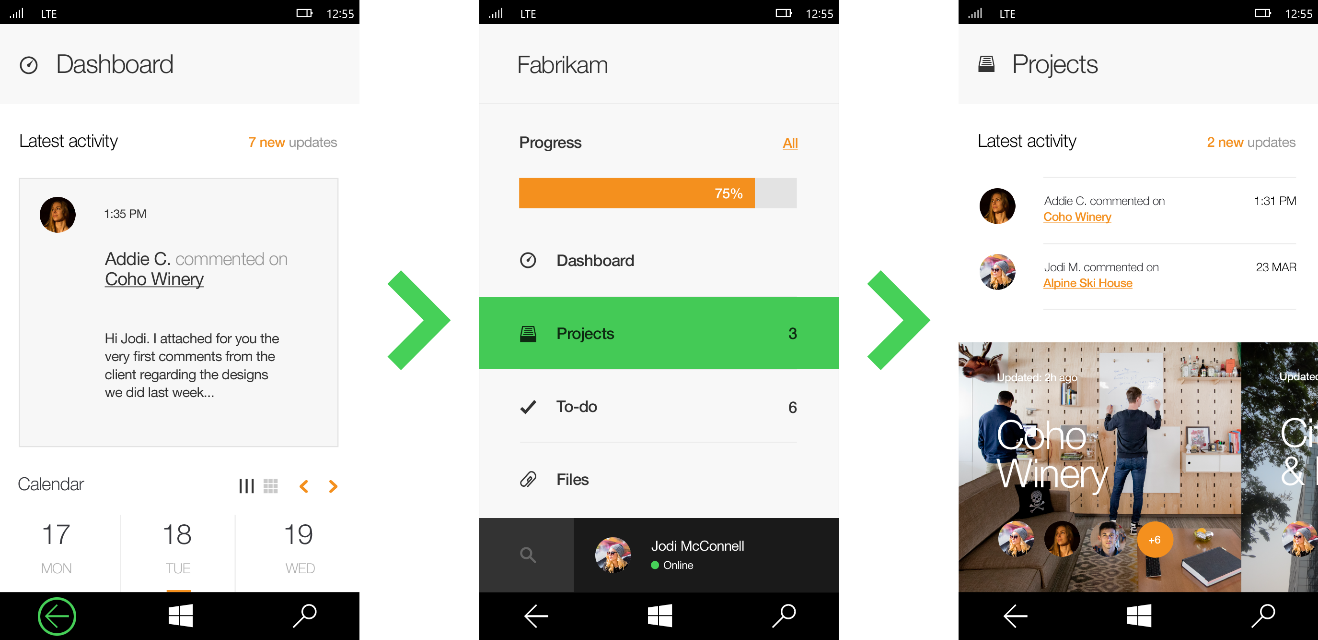 Sometimes users cannot figure out how to navigate the website or how to get to where they want to go. One of the best ways to improve your eCommerce bounce rate is to ensure the navigation elements are clear and intuitive.
Customers should not have to guess where the call to action is, neither, should they have difficulties understanding your site's navigation structure. You should simplify the navigation tabs to make it seamless for site visitors to explore other pages or take a specific action.
For instance, you can install a visible and honest call to action to avoid creating the impression of an insecure website. You can also develop a table of contents to make it easy for web visitors to select the specific sections they would like to visit on your page. eCommerce sites reduce user confusion and frustration by creating categories for the main types of products they sell.
8. Target engaged visitors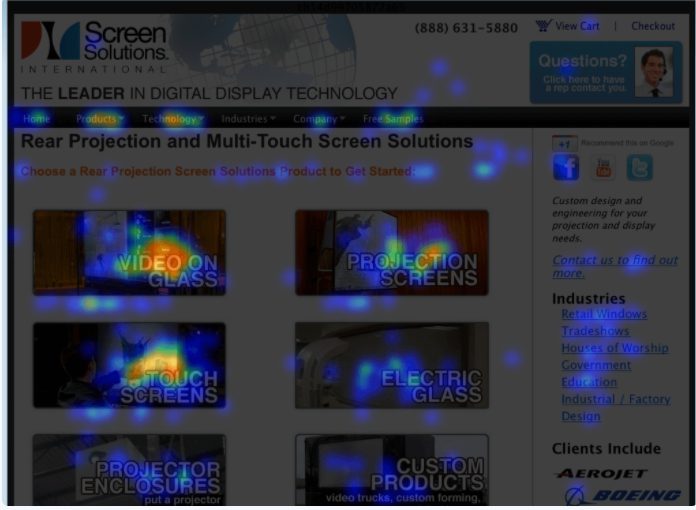 Sometimes if you're running a resource section or blog post, you'll get many users who will leave your page the moment they find what they want. If you are looking to convert these visitors, you should show them the most relevant offers while they are still navigating your website.
If for instance, a visitor is viewing content on influencer marketing, you should display offers on tools to leverage influencer marketing instead of household items. This strategy can help improve your eCommerce bounce rate while increasing the conversion rate.
Tools like heatmaps will enable you to study, analyze, and understand customer behavior, informing you of the pages customers are paying the most attention to.
You can create promotions or upsell and cross-sell your product features and other benefits on these pages. The goal is to emphasize the additional value your already engaged customers can gain from your offering.
Heatmaps will also inform you if customers are hesitant to click on certain pages due to the appearance of ads or popups. You can then remove or place the distractors in a more strategic place to keep your site visitors engaged.
Storytelling is also a good way to connect with your customers, drive mutual relationships, and keep already engaged visitors on your site.
When creating stories, ensure to talk about people, not your services or products, evoke emotions, be honest, and focus on what customers expect to gain from buying or using your products.
9. Insert strategic and helpful internal links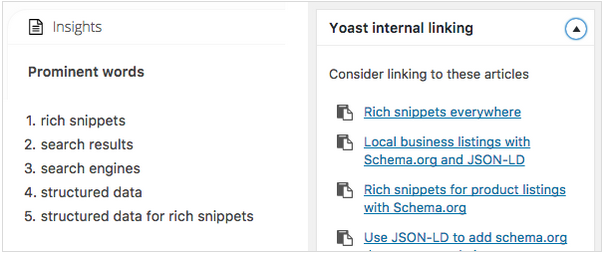 When you insert relevant internal links in your content, you increase a site visitor's engagement. They will be led to other pages within your website, increasing their interest in your products and services and the conversion rate.
In the event they landed on the wrong page, strategic internal links can enable visitors to reach the intended page or category while keeping them browning instead of leaving.
When linking your pages, ensure they are relevant, they have a relationship with each other, and have value-generating characteristics or benefits to site visitors. For instance, you should link related child pages to parent pages and vice versa.
A parent page can be the Product category, while the child page can be the specific products you are selling, such as electronics, household equipment, and others.
You can insert links suggesting content and products using tools like Yoast for SEO, Link Whisper, and Interlinks Manager.
This tactic will make your content easy to find. See the below example where you can link the content for Lion, Leopard, and Cheetah to each other. The page for Africa's big cats can also be linked to the one for Asia's big cats, both of which fall under the Big Cats parent category.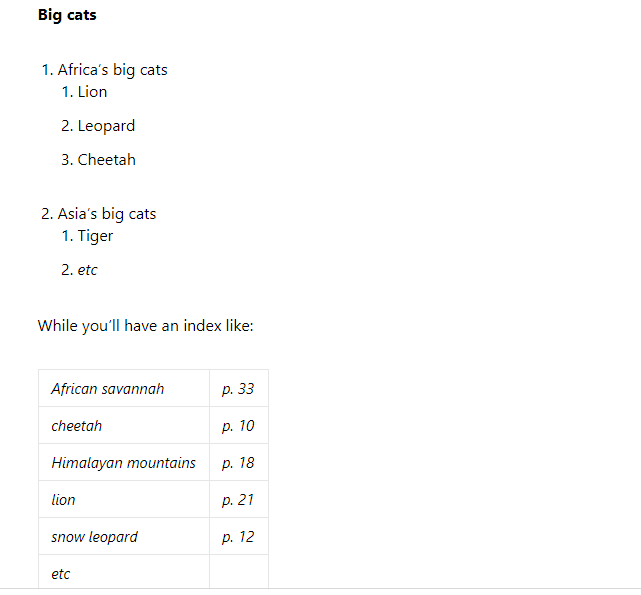 10. Engage abandoning visitors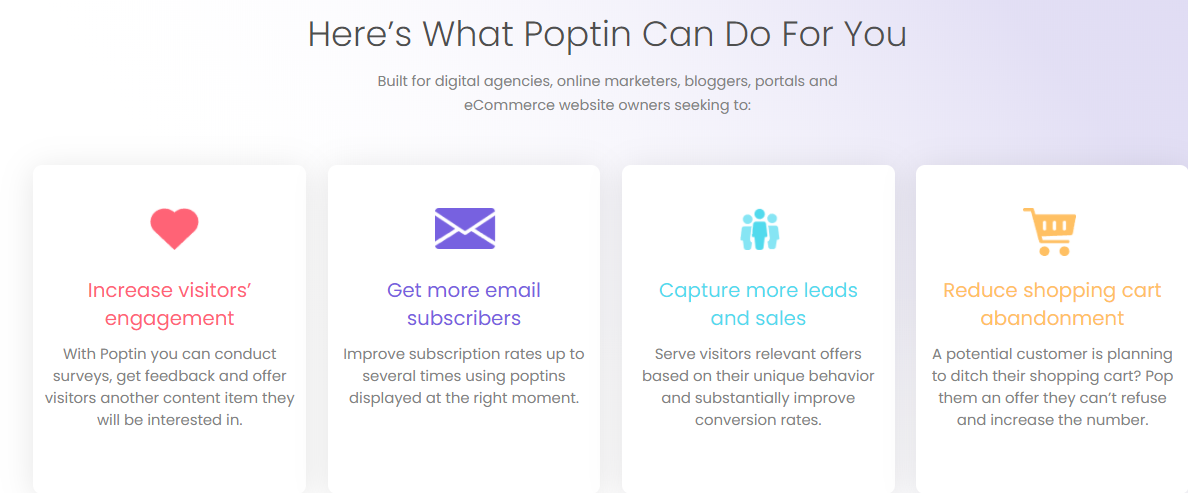 Irrespective of what you do to improve your eCommerce bounce rate, there are still users who will leave your website after clicking only one page. Some of them may have clicked your site in error or just had an emergency and had no option but to leave abruptly.
How can you track users when they are about to leave your site and convert them into subscribers?
One of the most powerful tools to use the Poptin tool, which enables you to display a popup message when users abandon their shopping carts.
It enables you to send customized offers, improving both conversions and bounce rates. You can also display subscription messages when site visitors visit or when about to leave your website.
You can also display a pop-up with a last-minute discount, which users can choose to go for or simply close the window. When you combine an exit offer with a subscription form, you run a high chance of controlling your eCommerce bounce rate.
When displaying popups, ensure to:
Use the right format (insert those that move in from the sides),
Serve them in a timely manner (like when visitors are about to leave the page),
Integrate them with your website (using branding elements like your company logo), and
Create a clear path by prompting action and grabbing the site visitor's attention.
However, you should not use popups with an aggressive call-to-action tone like Yes/No and avoid asking for too many things in one popup. For instance, you can ask users to sign up for your services or ask them for their email address only. Also, avoid too bulky popups (keep it simple).
Conclusion
Bounce rate is measured using the number of site visitors who leave after clicking on only one page.
Although it is not practical to lower the bounce rate to zero, you should aim to keep it to the minimum. Tools like heatmaps, on-site surveys, and session recordings can help you to determine the bounce rates.
Once you identify the reasons visitors are leaving, you can improve your eCommerce bounce rate by adopting relevant strategies like enhancing the page speed, fixing technical issues, making the mobile eCommerce, and targeting engaged and abandoning users, among others. Depending on your business type, these tactics will lower your bounce rate significantly.
You can improve your site speeds by optimizing your files and plugins, and investing in private hosting. You should also attract the right visitors to your site using meta descriptions of your content titles. Your content and images should also be appealing to your users.
Consider using the recommended upselling and cross-selling strategies to make your campaigns value generating. Technical-related fixes like addressing site usability issues, ensuring your site are responsive, and employing intuitive navigation will improve your engagement with customers.
Overall, you should target both engaged and abandoning visitors by inserting strategic internal links on your eCommerce site.
About the Author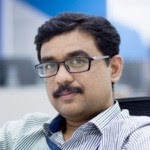 Rithesh Raghavan is the co-founder of Acowebs, an online store for eCommerce plugins with 15000+ satisfied customers across the globe. Having rich experience of 15+ years in Digital Marketing, Rithesh loves to write up his thoughts on the latest trends and developments in the world of IT and software development.