The number of people shopping online has almost doubled in the last seven years, with 2021 boasting an estimated 2.14 billion global online shoppers. That's about a quarter of the world's population! While it's clear that e-commerce is a growing market that shouldn't be ignored, setting up an online shop can be tricky.
With their beginner-friendly platform, Shopify decided to make this process easy and accessible. But while having an online presence with good products is the first step, your Shopify store needs to be visually appealing to draw in customers and entice them to buy.
To help, we've compiled a list of 20 of the best examples of Shopify stores, ranging from snack retailers to cosmetics. Hopefully, they will provide you with inspiration for your store to stand out from the crowd.
Table of Contents:
Allbirds
Pipcorn
Jeffree Star Cosmetics
Taylor Stitch
Meow Meow Tweet
Tattly
Gymshark
Beardbrand
HELM Boots
Wolf Circus
Hiut Denim Co.
Bremont
BLK & Bold
Biolite
Press London
Burga
Wishpond + Shopify + 300 Integrations
Never worry about software incompatibility.

Add your other favorite tools! Slack, Eventbrite, GotoWebinar: from the big players to specialized apps, we've ensured our software is compatible with the best of the market to make your workflow as seamless as possible.
Learn more See demo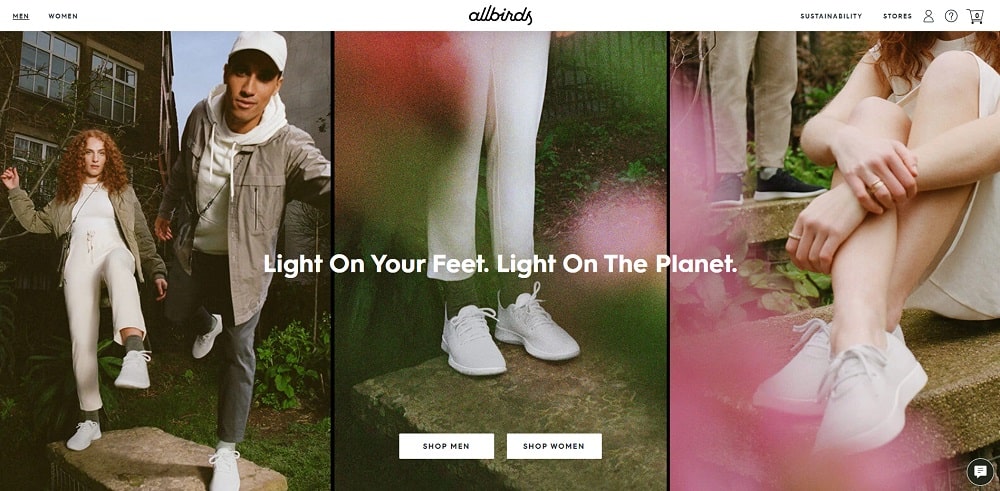 Founded by footballer Tim Brown and engineer Zoey Zwillinger, Allbirds is a footwear company putting natural materials and sustainability first. Merging comfort and consciousness, their threads are made from wool and eucalyptus, feature simple designs and packaging made from 90% post-consumer recycled cardboard.
With a clean interface, bold photography, and animations that highlight the companies sustainability focus, Allbirds' website is visually pleasing. Allowing shoppers to interact with products and some of the companies' stories from the home page simplifies the shopping experience. The website is consistent throughout, opting for larger product images to avoid over-cluttering the page.
Back to top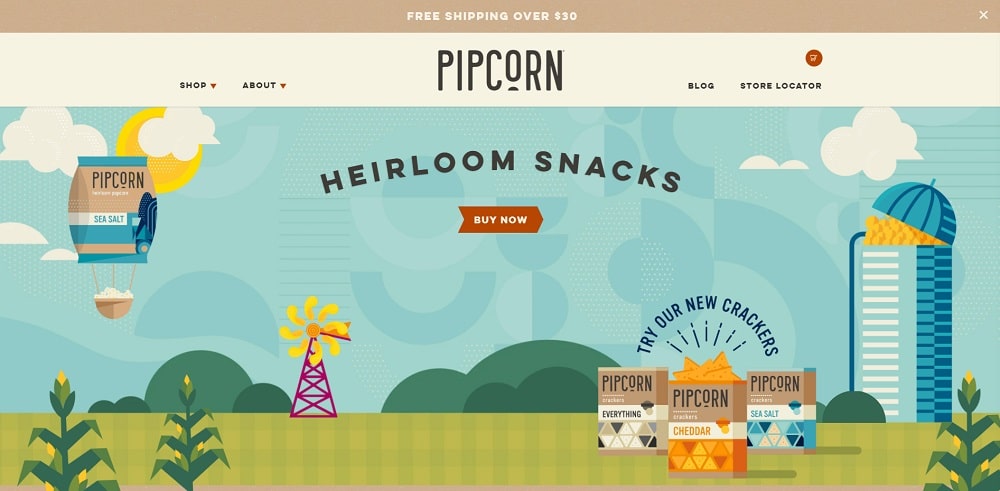 The idea for Pipcorn came in 2012 when Jeff Martin was helping his sister Jen move. Having packed everything up except a bag of heirloom popcorn kernels, Jen had found in a health food store where she worked. Once popped, it turned out to be the most delicious popcorn they'd ever had. Having taken such a liking to it, they tracked down the Indiana farmer who grew it, and together with Jeff's wife, Teresa, they created a new company, Pipsnacks which makes a range of heirloom snacks.
Featuring fun animations, a beautiful design, and a simple layout, Pipcorns' Shopify store is engaging and easy on the eyes. Focusing on a few key products and a bit about themselves, the main page is isn't too busy. The website is easy to navigate, and you can quickly locate the right products thanks to the categorized menu. Another great feature is encouraging users to sign up for the newsletter by offering a 10% discount on the first purchase.
Back to top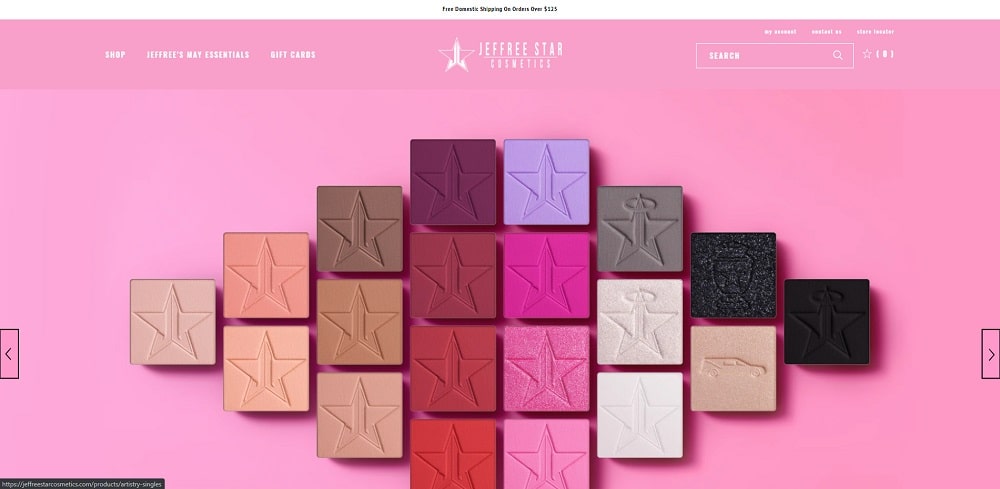 The cosmetics brand of makeup artist, fashion designer, and model Jeffree Star, Jeffree Star Cosmetics is arguably among the most popular Shopify cosmetics stores. The hot-pink website features plenty of holiday and special editions for their customers, as well as free U.S. shipping for products over $100.
With the homepage boasting a bold carousel highlighting product ranges, you can also buy featured products straight from the homepage. With a simple menu that lets you choose between the shop, bundles, and gift cards, the website is easy to navigate, while a prominent search bar makes it easy to find what you can't locate yourself.
Back to top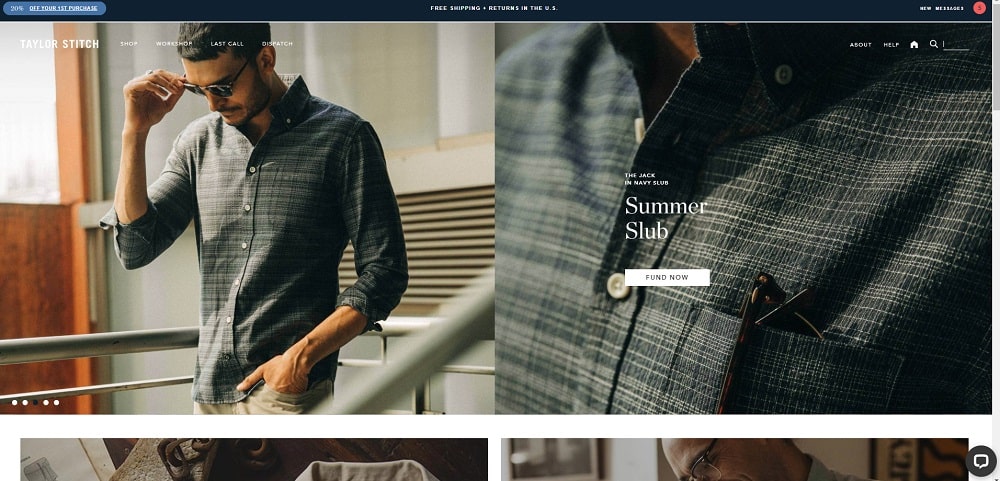 Launched in 2010, Taylor Stitch sells custom and tailored menswear, aiming to make sophisticated dressing affordable. It is famous for its workshops. Based in San Francisco, California, they strive to craft responsibly-built staples designed to look and function just as well in the city as they do in the great outdoors. Their mission is to challenge how the clothing industry operates by improving the way they source, sew, and sell.
As with many fashion brands, the website relies heavily on strong photography to highlight the products. The shop menu allows you to directly navigate to popular items or category pages, cutting down the steps needed to buy. The product pages are clean, with the focus on the clothing.
Back to top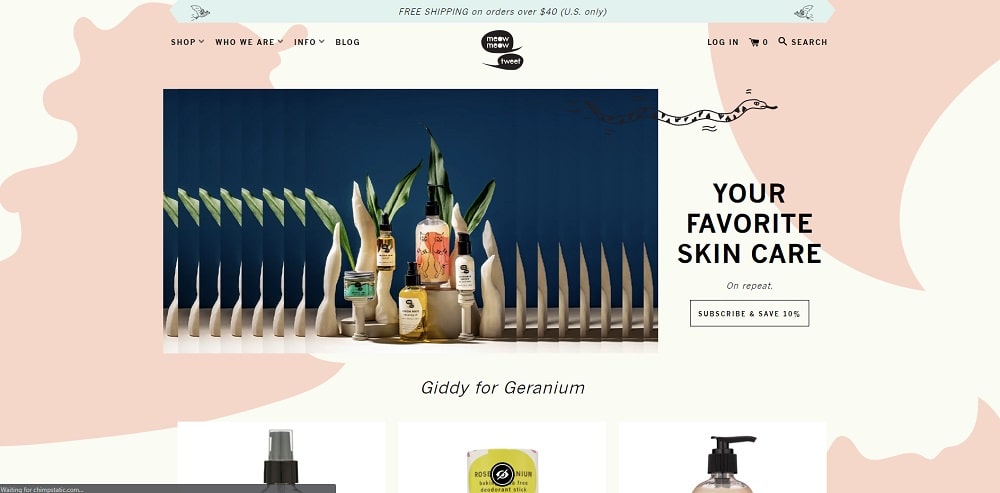 Founded by life and business partners Tara Pelletier and Jeff Kurosaki, Meow Meow Tweet an organic vegan skincare company known for its products made from natural ingredients and its sustainable packaging featuring playful illustrations drawn by Jeff. They donate to and support organizations that align with their values and offer a bulk refill program to reduce packaging and waste.
Featuring the same playful designs as found on the packaging, Meow Meow Tweet's Shopify store offers you the ability to buy featured products from the homepage and see the most recent blog posts. The menu is also simple, with options for the shop, blog, the about section, as well as other information. The product pages match the design of the products themselves and give you usage tips and other product information.
Back to top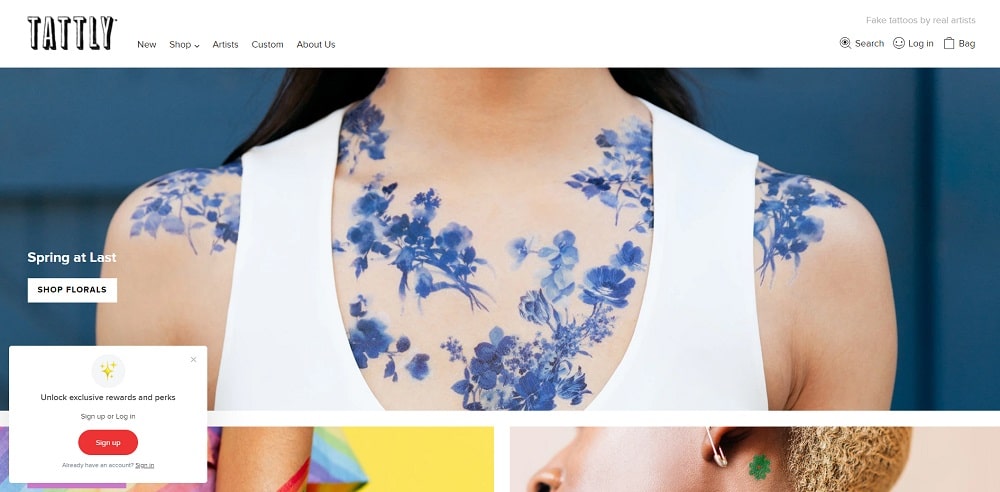 Tattly started as a side hobby for designer Tina Roth-Eisenburg but has morphed into a growing temporary tattoo business. Started in 2015, it has shipped more than 2.6 million temporary tattoos ranging from $5 to $15 per sale.
Saturated photos take center stage on this Shopify store, with the homepage allowing you to shop a large number of collections and featured items. The product pages show not only the designs themselves but also applied to models, giving you an idea of how it will look. The menu allows you to navigate to new, custom, and all designs and find out more about the company and artists.
Back to top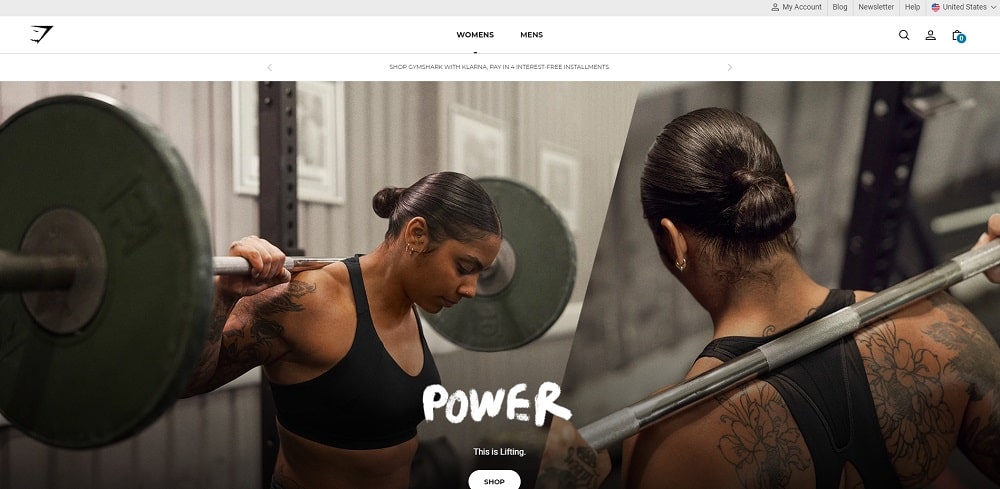 Gymshark was started by a group of teenagers in 2012 as a screen-printing operation in a garage. Since then it has grown into one of the most successful fitness Shopify stores. With over five million followers on Instagram, the brand also knows how to utilize social media.
The homepage features striking photography, featured items that you can easily add to the cart in the correct size, and a video of their latest range. Product pages show the garments on a model and used in exercise, showcasing its range of movement and quality. The menu is simple, with the main options being womens' and mens' ranges.
Back to top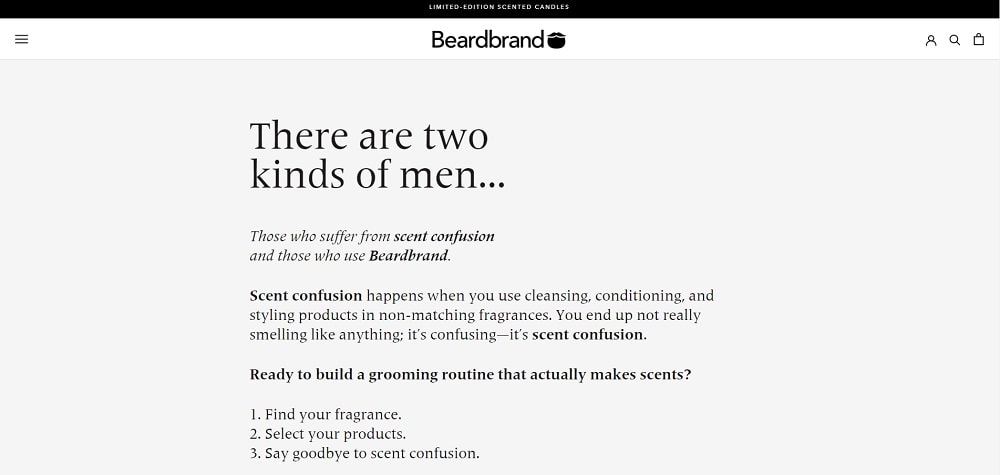 What started to unite the beard-growing community in 2012, Beardbrand has grown into one of the most popular male-grooming Shopify stores. Having gotten their start with content marketing, the focus of their homepage isn't to sell products but to strengthen their brand image further.
Unlike many other online stores, Beardbrand doesn't feature any products on its homepage; instead, it has one call to action, asking users to help 'find their fragrance to avoid 'scent confusion' or the use of different smelling products. While they have a hamburger menu on the far left-hand side of the page, it is unobtrusive and not distracting.
Back to top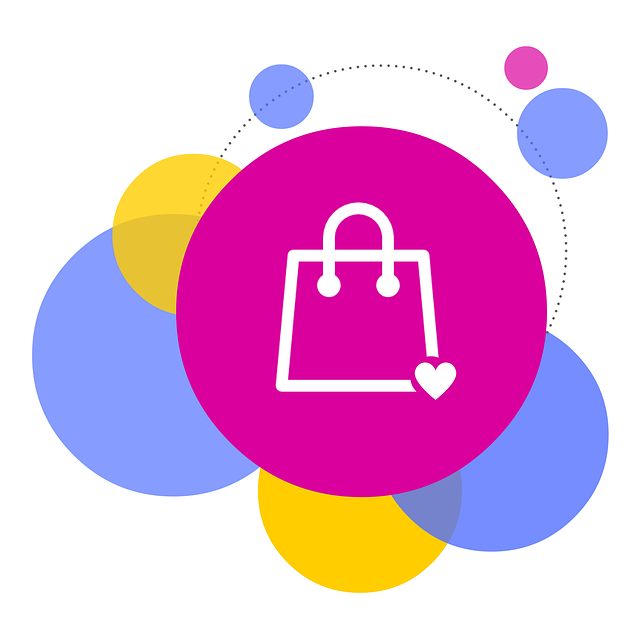 Wishpond + Shopify + 300 Integrations
Never worry about software incompatibility.

Add your other favorite tools! Slack, Eventbrite, GotoWebinar: from the big players to specialized apps, we've ensured our software is compatible with the best of the market to make your workflow as seamless as possible.
Learn more See demo

HELM Boots was founded in 2009 with the intention of making boots that were straightforward and built to last. Since then, they've spent every day perfecting the modern men's boot. Their goal is to create a versatile, timeless, functional boot and can be worn in the workshop or boardroom.
The website's design echoes the clean elegance of their boots, with rich photography highlighting their products. The homepage features their best sellers and a button to shop their entire collection, and an embedded video gives more information about their latest shoe. The product pages continue this clean design with the shoes displayed on white background for maximum contrast.
Back to top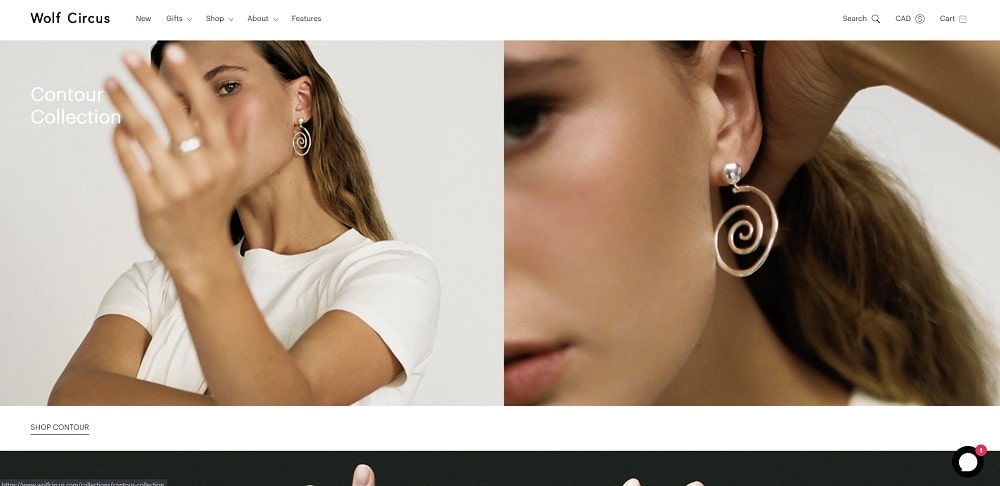 Based in Vancouver, BC, Wolf Circus is a Shopify store with a line of handmade jewelry products. All of their products are made using either recycled sterling silver or recycled bronze that's coated in a high-grade 14k gold plating, which they market as "attainable luxury." They aim to 'inspire others to embrace their confidence during their daily hustle."
Featuring photography worthy of a fashion magazine, the homepage of Wolf Circus' Shopify store focuses on current collections with a small about section at the bottom. The menu gives you a few different options for shopping, either new, gifts or all, as well as an about and featured content link. The product pages are clean but bold, with product images taking up a large chunk of the page. For added engagement, the store also features a chatbot.
Back to top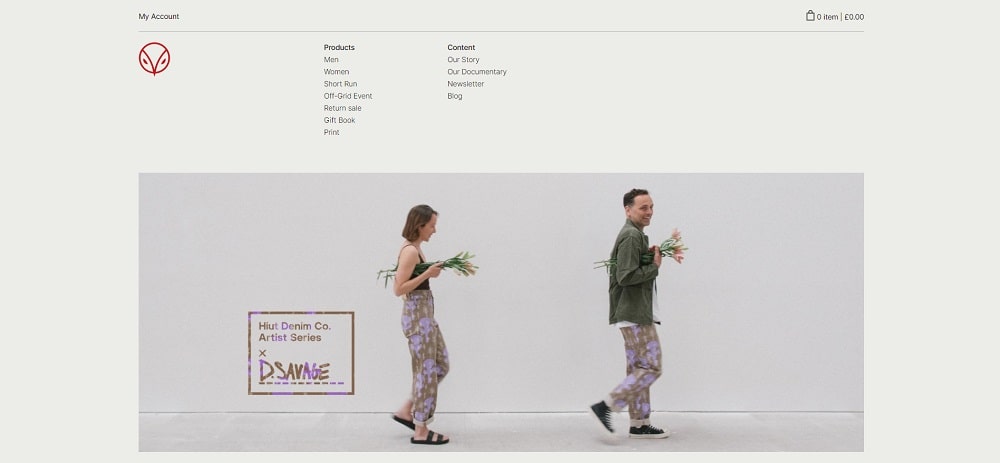 Cardigan, Wales used to be home to the biggest jeans factory in the UK. In 2011 Hiut Denim Co. was founded there to take advantage of the jean-making skills and know-how that remained with many locals. The company is dedicated to making the best jeans and focuses on details, satisfaction, and quality.
Hiut Denim's Shopify store is clean and easy to navigate thanks to a menu that divides between product and content but shows the categories in each without needing to hover over it. The homepage highlights the most recent collection and gives quick access to mens' and womens' products, as well as a featured product, prints, and returns. The product pages continue this clean look, with product images taking center stage.
Back to top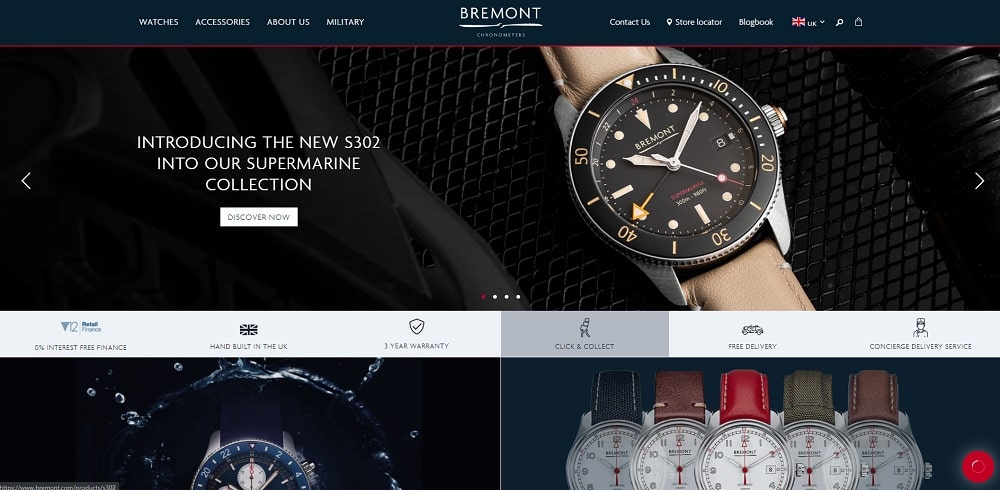 British luxury watchmaker Bremont produces beautifully engineered chronometers. With an annual production of approximately 8,000-10,000 pieces, the companies key pillars are British engineering, aviation & military, and adventure. Founded in 2002, their goal is to make beautifully crafted pilot's watches of exceptional quality. They are inspired by a love of flying historic aircraft, of watches, and all things mechanical.
Bremont puts its latest collection at the top of its Shopify store, listing its unique selling points directly underneath. You are given the option to discover the newest releases or update your existing watch, as well as directly shop the best-selling watches from the homepage. A chatbot is available to assist you should you have any questions. The product pages use large header images and clean product images to reinforce the boldness of their products.
Back to top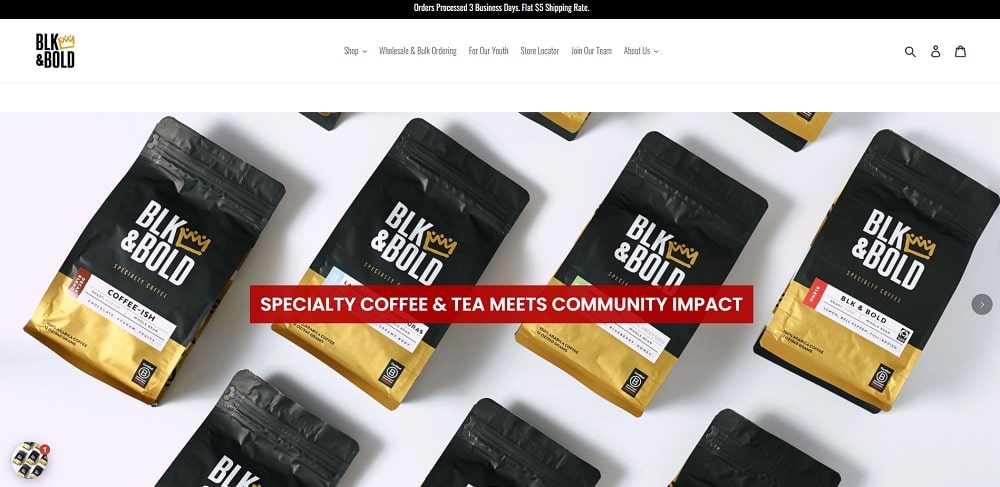 Founded by Pernell Cezar Jr. and Rod Johnson, the purpose behind BLK & Bold is to help local communities through the sale of caffeinated beverages. It does this by leveraging wholesale and direct-to-consumer to equip young people with tools to overcome unfortunate circumstances. They also pledge 5% of profits to initiatives that sustain youth programs, enhance workforce development, and eradicate youth homelessness.
BLK & Bold's Shopify store utilizes a clean and simple design. Offering a 15% discount for newsletter signup via a chatbot, the rest of the homepage focuses on highlighting its newest products, a video explaining its unique selling point, and informing consumers which stores stock the product. This minimalism is continued on the product page, which features simple product images, information, and reviews.
Back to top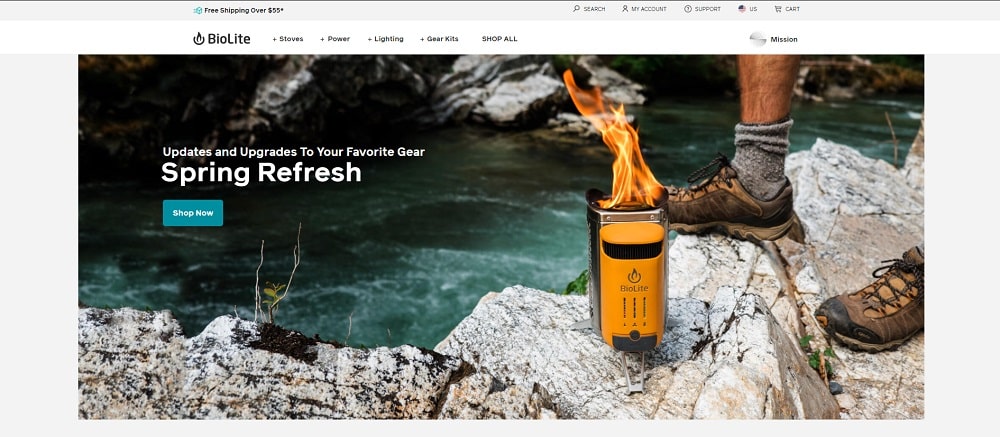 Biolite creates affordable, durable products that harness surrounding energy to cook, charge, and light daily life for off-grid households. Their vision is to provide 20 million people with access to clean energy and avoid 3 million tons of CO2e by 2025.
Their Shopify store echoes the technology that's incorporated into their products, with a high-tech design language. The product pages are efficient in design, allowing you to view products both in a studio setting and in use outdoors, and even video of it in action. The menu gives options for the different product categories or to shop all in one place.
Back to top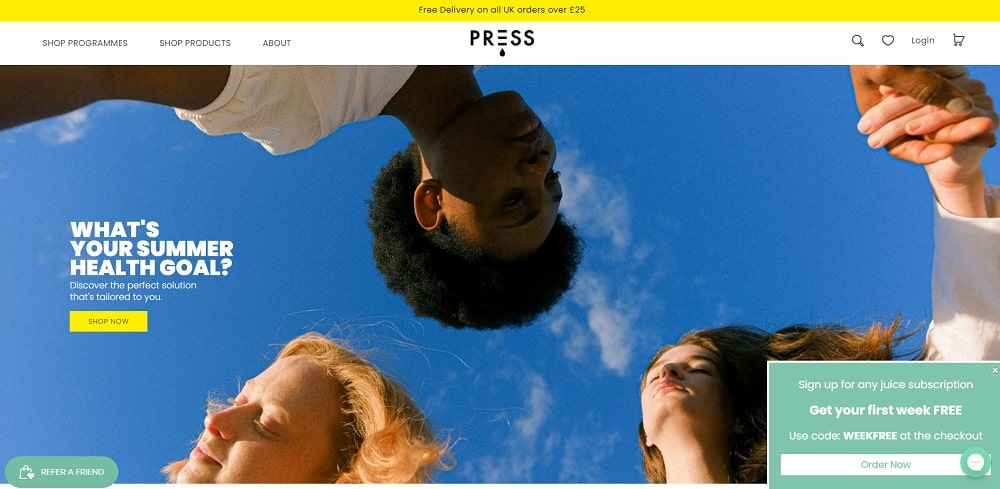 Founded in 2014, today PRESS is proud to be an online delivery service and working with over 700 independent stockists all over the UK. The idea was born when PRESS co-founders Georgie and Ed developed a love for cold-pressed juice as a healthy part of their diets. They brought the concept back to London and sold their first juices out of a bathtub in Old Street tube station. Their mission? To become the biggest health food brand globally.
The layout of their Shopify store is simple, with the menu allowing you to shop their programs or products, as well as learn more about them. In line with the clean and healthy image of their product, their homepage design is sleek. With options to find out more about their programs, reviews of their products, and links to their blog on the homepage, it's easy to dive into their world and find out more.
Back to top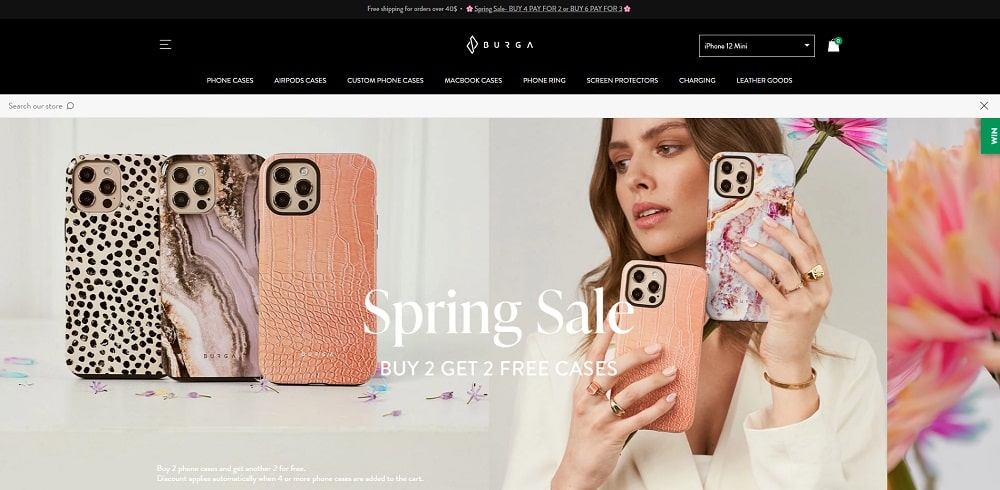 Burga sells luxury phone and laptop cases, as well as leather card and passport covers. With a range of stylish accessories, this Shopify Store attempts to display fitting cases for your device if you visit it on your smartphone.
With a design reminiscent of a jewelry store, Burga's website is as stylish as its products. The focus of the homepage is to highlight specials and allow you to shop for a range of different accessories directly. Product pages feature standard product images and user-generated ones, adding a personal touch to the pages.
Back to top
As you can see, there isn't one strategy that works for all Shopify stores. You need to adapt your design to your product. Things to consider include who your target market is, how your product would be used, and how easy it is to navigate through your website. The closer your Shopify store feels to your actual product in design, the more customers will be able to connect with your brand.
Did you see any designs that caught your eye and inspired you to start or update your Shopify store? I'd love to hear about your stories!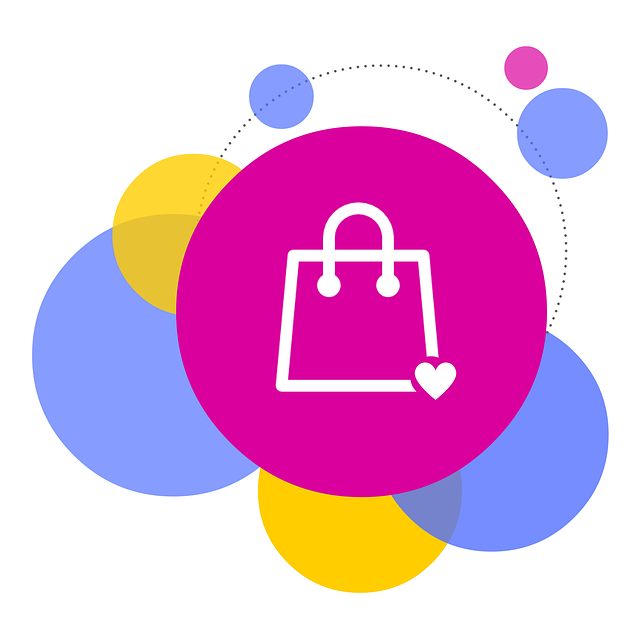 Wishpond + Shopify + 300 Integrations
Never worry about software incompatibility.

Add your other favorite tools! Slack, Eventbrite, GotoWebinar: from the big players to specialized apps, we've ensured our software is compatible with the best of the market to make your workflow as seamless as possible.
Learn more See demo