It doesn't matter how great your webinar is if there's no one there to experience it.
Webinar promotion is one of the most important parts of running an online event and it's something you have to get right if you want your webinar to be a success.
From our experience running webinars on all kinds of subjects, we've figured out the most effective ways to promote your webinar and draw in a guaranteed audience.
Follow our complete guide to webinar promotion for a successful event that helps your business achieve its goals.
What Makes a Good Webinar?
Before starting to promote your webinar, you need to make sure you've got a great webinar to begin with.
So, what exactly is a webinar, or webcast?
A webinar is a type of live seminar delivered online. It involves a host and guests, and the webinar is broadcast live. A webinar needs to have a clear topic or theme, that is presented to a live audience of attendees.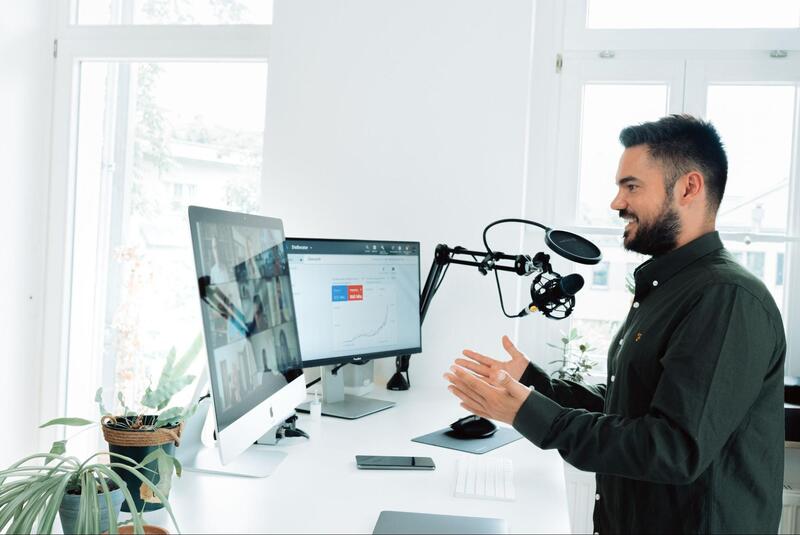 When you plan and deliver your webinar, here are some of the most important best practices to remember.
Offer Value
Your webinar has to provide value to your attendees. The event should offer some kinds of actionable takeaways, that attendees can apply to their own situations.
Yes, webinars are a sales and marketing tactic designed to promote your business in some way. However, nobody wants to join a webinar that's just one long sales pitch.
Your webinar content has to be valuable to the viewer in some way. Attendees need to leave your webinar with fresh knowledge and insights that they can use.
Educate Your Audience
All webinars have to be educational in some way. They need to teach your audience something they never knew, leaving them with more knowledge than what they had before the event.
This could be on a new product, a business strategy, how to use a tool, how a service works, some kind of expert insights, and so on.
Make it Entertaining
It doesn't matter how much valuable content your webinar offers – if it's boring, nobody will be interested. Your webinar shouldn't just be educational, it should also be fun.
Make sure that the host is knowledgeable, but that they also have a good personality. A webinar is a great way to engage your audience and to add some personality to your brand. If the webinar is just a long, boring information session, you'll soon lose your audience.
Make it Easy to Understand
You need to communicate your webinar clearly. If you want to offer value to a large audience, then the webinar needs to be easy to understand.
Use a visually appealing presentation that conveys the information clearly. Use simple language, and pay attention to the way you present your ideas verbally.
Plan the Webinar Properly
Finally, the best webinar is one that is well-planned. You never know what could go wrong during a live event so always try to have your bases covered.
An important part of this is preparing for any possible technical difficulties. Use a trusted platform to stream the webinar, and know how to use it. Do a dry run of the webinar in advance, and make sure that you have a clear understanding of the flow of the event, speaking times, and any technical tasks you may need to perform. Of course, a strong internet connection is essential.

Preparing a great webinar is only the first step, the second half of the work comes down to your promotions. Without strong promotional efforts, you could be presenting your well-planned webinar to no attendees. From our experience, here are the most effective strategies and tips for webinar promotion that works.
1. Choose a Topic That Appeals to a Broad Audience and Offers Clear Value
The first thing that's going to get people to attend your webinar is your topic. If the webinar topic is bad, then nobody's going to show any interest in your promotions.
We've already covered how important it is to offer actionable advice and value to your webinar attendees. So, make sure that this value is clearly communicated in the title and topic of your webinar. Your audience needs to know what they're going to get out of the webinar before they attend it.
When you choose a topic for your webinar, try to come up with a topic that appeals to a large audience, but is still focused enough to offer clear actionable value that your attendees can apply.

2. Set an Attendance Goal
You need to have a clear goal for attendance when you start to promote your webinar. Otherwise, you won't know what you're trying to achieve.
Having a goal in place helps you measure the success of your promotions, and it helps you to know which tactics will work best for your next upcoming webinar. Setting a clear attendance goal is the first step to achieving a good webinar registration.
3. Understand Your Registrant vs Attendees Ratio and Set a Registration Goal
Once you've set your attendee goal, you need to understand that webinar registration doesn't equal attendance. Generally, only 44% of registrants actually attend the webinar they sign up for. Use this figure to understand how many registrants you will need in order to achieve your desired attendance level.
Once you've got your registration figure in place, keep a constant eye on your registration progress to see whether you need to adjust your promotional efforts or not.
Of course, you also want to make sure that you get as many attendees as possible from your registrants. To do this, you'll need to keep your webinar front of mind. Keep following up with registrants, reminding them about the upcoming webinar and the value they will get from it.
4. Offer Something Special to Attendees
Everyone wants to be part of something special. When you promote and run your webinars, try to find a way to offer something special to your attendees. This could be a giveaway during the event, a special offer for all attendees, or a social contest leading up to the webinar.
This gets people excited to register for your event, it gives registrants more reason to attend your webinars, and it will help to add even more value to your existing program. The more you can offer to your attendees, the more positive brand awareness you'll be able to create. This will make a big difference to your sales and marketing.
An example of this would be running a live draw at the end of your webinar based on a question you ask in the live chat. You could run a giveaway based on a hashtag that you ask attendants to post on social media or give away coupons and discount codes during your event.
Another excellent strategy is to follow up with all attendees after the webinar and send them each a discount code for your product or service. This isn't necessarily a promotional tactic, but it's an effective way to boost your sales after the event. This is because your attendees are clearly interested in your brand, and if you can show just how valuable your product is during the event, then a discount code could be just the nudge they need to make a purchase.

5. Promote Your Webinar at the Right Time and On the Right Day
Timing plays a major role in your webinar promotion. Certain times of the day result in better registration rates. Something as simple as the time and day that you send out your promotional email could have a major effect on your attendance levels.
Promotions launched on Tuesdays drive the best results, and promotions launched on Fridays are the least effective. Early morning promotions are also the best. You want your email to be at the top of your readers' inboxes when they check their mail in the morning. Try to send out important promotions between 8 am – 10 am.
The closer you get to the date of your webinar, the more registrations you'll get. This means you should also increase the frequency of your promotions closer to the date of the event. A promotional period of 3 to 4 weeks is best, as you'll be able to get a steady stream of registrations throughout this period.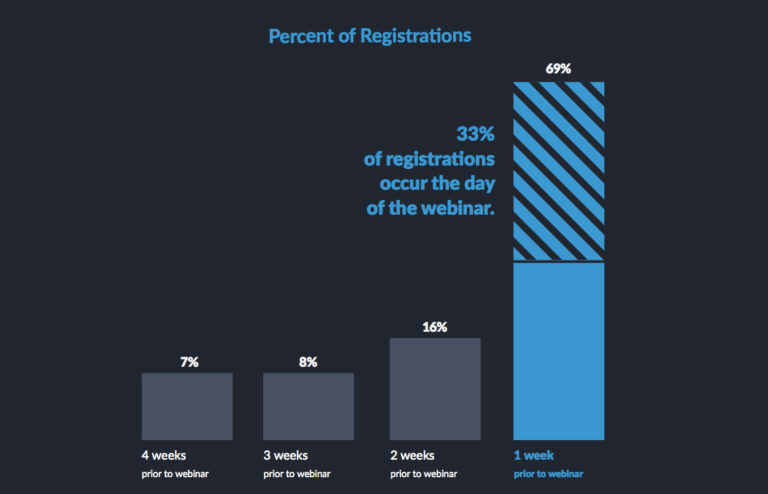 Source

6. Create a High-Quality Webinar Landing Page
Your webinar landing page will decide whether people will register for your webinar or not. All of the efforts you put into promoting your webinar will drive interested people to your webinar landing page. If this registration page is properly set up, visitors will quickly and easily register. If not, you could lose out on a good portion of your attendees.
Firstly, make sure that all of the correct information is displayed on your registration page. This should include who will be hosting the webinar, what the webinar is about, when the event will take place, and how registrants can access the event. Of course, highlight the value and benefits that your webinar offers, not just what it's about. All of this information should be presented in a simple, succinct way so that visitors can quickly get all of the information they need.
Your signup form should also have as few entry requirements as possible. The easier it is to register, the more registrations you will get. You could even offer one-click registrations from your promotional emails.
If you use an email marketing tool like Wishpond, you can filter all of the people who clicked on your registration link (which sends them straight to your landing page) and register their emails for your webinar. This is the easiest way to get people to sign up because they don't have to fill out any forms or offer any details.
By using Wishpond's landing page tool, you can build incredibly easy, beautiful landing pages with the drag and drop editor. This is the most effective way to set your webinar up for success.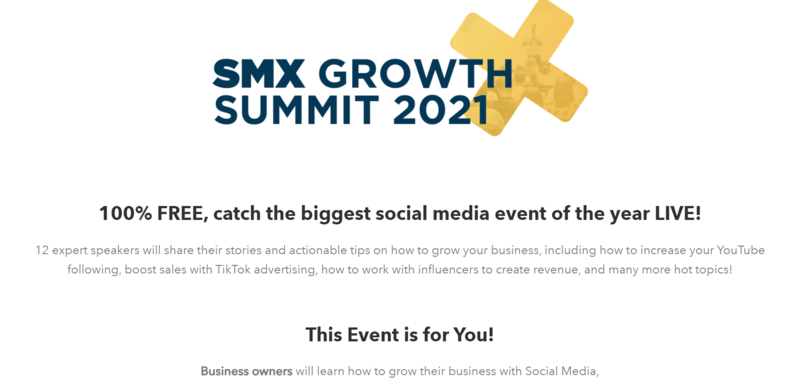 7. Develop a Clear Email Marketing Strategy
Hands down, the best channel for promoting your webinar is email. You can use email marketing to reach a large audience and send your registration link directly to all of their inboxes.
To do this, you will need a good email marketing tool. The best email platforms allow you to segment your mailing list based on various factors. Doing this allows you to send customized, personalized content to your different customers and leads. This will improve your open rates in a big way.
For example, you can frame your email to existing customers or previous webinar attendees differently from emails sent to new leads.
When promoting your upcoming webinar, set up a series of emails to be scheduled for different times. Ideally, you will want to send out an automated email workflow, where your subscribers receive different emails based on their actions. Sound complicated? It's not.
Let's say you send out an initial email promoting your event. Those who registered can automatically get sent a thank you email, followed by a few reminder emails over the promotional period. The people who did not click on your first email can get sent further promotional emails later on.
Creating an automated workflow like this saves you the trouble of following up with different contacts and registrants while making sure that everyone receives the right content at the right time.
With a tool like Wishpond, setting this up is easy.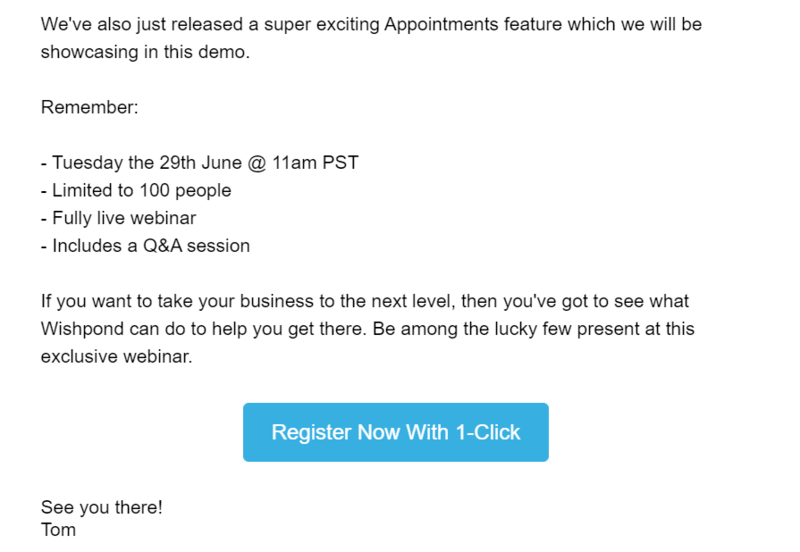 Not sure how to write and put together your emails? Follow this guide to help you create effective marketing emails.

8. Send a Registration Confirmation
As soon as people register for your webinar, automatically send them a thank you email. This is just a simple way of thanking them for registering (which is good manners) while providing a reminder for the upcoming webinar. These emails are also important for letting your registrants know that their sign-up was a success.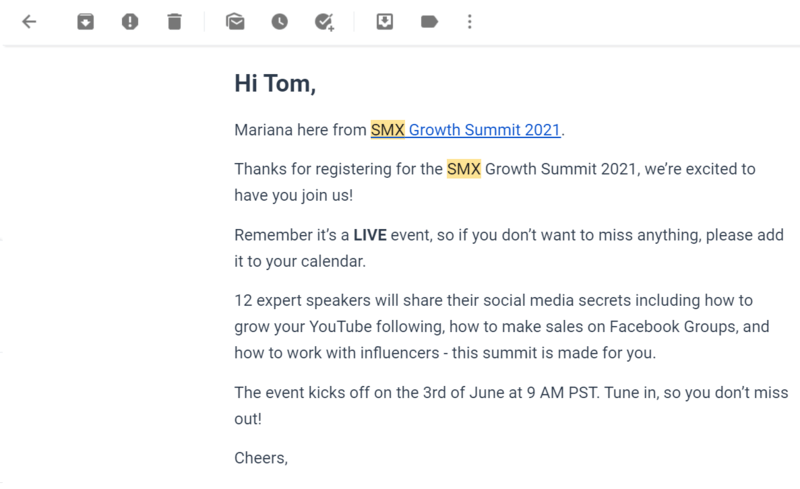 You can easily set these emails up with an automation tool. All you need to do is thank the person for registering, remind them of the value that your webinar is going to offer, and include the time, date, and webinar link.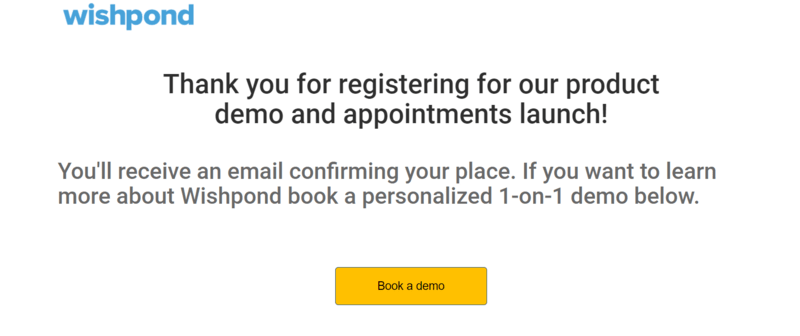 Above is an example of a landing page that registrants get ent to from one-click registrations.
9. Send Out Reminder Emails
Your follow-up email is necessary, but this isn't always enough to keep your webinar at the front of your registrants' minds. Sending out a series of reminder emails before the webinar will help to get registrants excited about the event, and it will encourage them to keep a space in their calendar open.
If this isn't your first webinar, you may also want to ask for referrals from those who had a good experience the previous time around.
You've got to be careful here because sending too many emails will be annoying, while not sending enough emails could make registrants forget about the webinar. Sending one email a week to registrants is a good idea, with a final reminder the day before the webinar.
You can also use these emails to promote any other relevant content you have (like eBooks, videos, or blog posts) that relate to the webinar topic.
These emails should get your registrants excited, so use them to talk about the value they will get from the webinar. Introduce the speakers, list the talking points that will be covered, and reveal what they will walk away from the webinar with. Your goal should be to build up momentum and engagement around the event.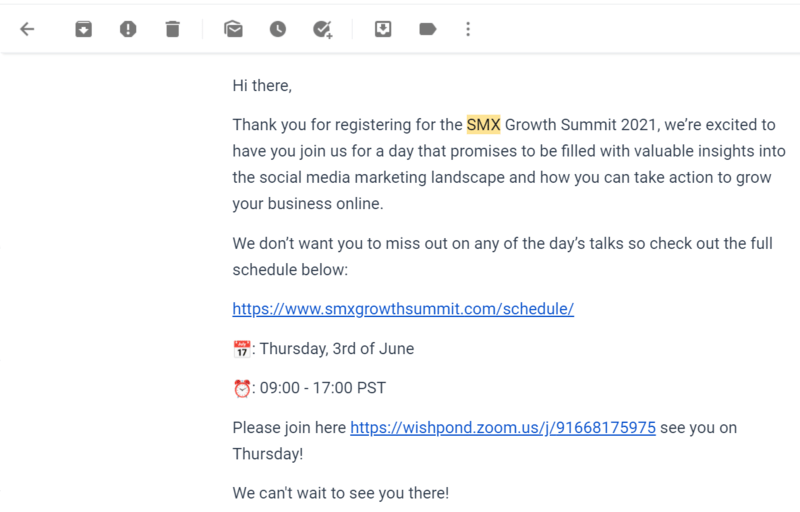 10. Promote Your Webinar on Social Media
You've got to use all of your marketing channels to promote your webinar. Of course, this includes your social networks.
Post about your webinar regularly across your social networks, tag the guests who will be on the webinar, and engage with any questions about the event. Social media is a great place to start building up some real buzz around the webinar.
Short-form social media videos, like Instagram Reels, Stories, and TikTok videos, are also a great way to get the word out. You can post short snippets from the webinar guests covering what they'll be talking about or introducing themselves. You could also post short animated videos highlighting the webinar topic.
Remember that social media is about building a community, so get your audience involved. Ask them questions, such as what they want you to talk about in the next webinar, and engage with your audience to build excitement.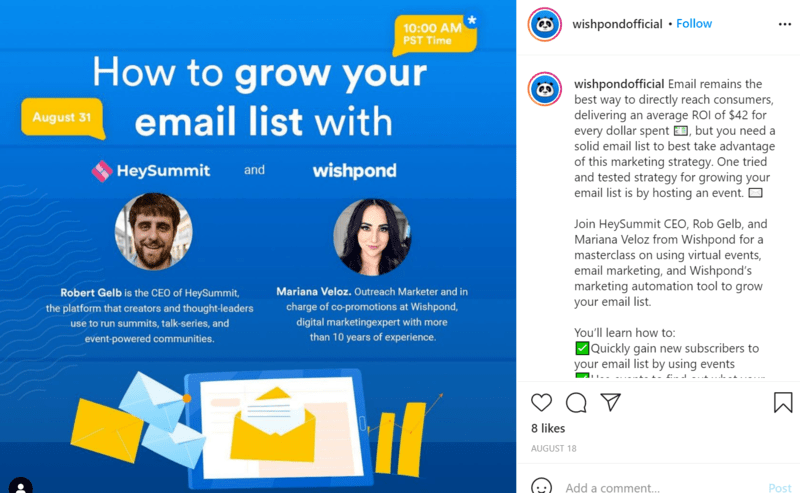 11. Get Your Guests to Promote the Webinar to Their Audiences
If your webinar has guests (which it probably does), you should also use them to promote the webinar too. When you get guests to agree to join the webinar, make it a clear term that they also need to post about the event.
This allows you to get your webinar out to an entirely new audience, which can help your registration numbers in a big way. Just make sure that the guests promote the correct link to the registration landing page.
12. Promote Your Webinar On Your Blog
Your blog is another great place for webinar promotion. During the buildup to the webinar, post a blog article about the event and what will be covered.
Content marketing like this is the perfect opportunity to go a bit more in detail about the things you will be talking about and who your speakers are.
Then you can promote your blog post across social media and email, to add a new form of promotional content to keep your audience engaged and excited. Of course, make sure that you include a clear call to action (CTA) leading to the registration form in your blog post.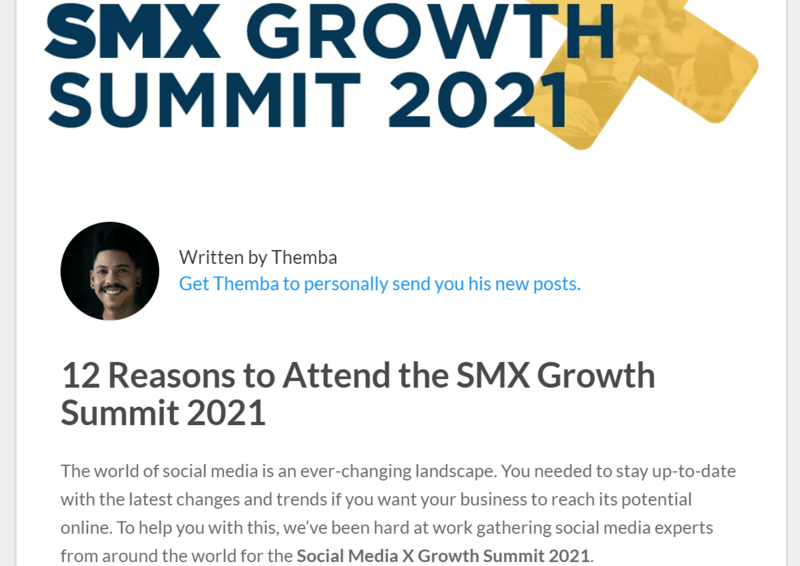 13. Leverage Your Employees Networks
When you spread the word for your webinar, don't forget about your employees. Employees can be valuable assets for social media promotion, as they allow you to expand your reach and audience in a big way.
If each of your employees posts the webinar on LinkedIn and invites their contacts, your registrations could skyrocket. This only really works if your employee's audiences are the same as your target audience.
Just send out social media assets and the correct registration link to all of your employees, and they could start generating some valuable traction for your event.
14. Consider Paid Media
If you want to reach a wider audience, then consider utilizing paid media. Running ads for your webinar can help you reach way more people. You just need to make sure that the cost of your ads is worth what you get out of the webinar.
If you do want to promote your webinar using paid ads, then social media is your best bet. Platforms like Facebook and Instagram collect loads of data from their users, which allows you to target a very specific audience. This means you'll be able to get your webinar out to your exact target audience, which will mean better results for the campaign.
15. Send Personalized Invites to Key Accounts
This won't necessarily raise your attendance a great deal, but it can help you to get the most important people watching your webinars.
If you have a few really important clients or leads that would benefit from the webinar, reach out to them personally and extend an invite. Send them a personalized email that is clearly not automated, and explain the type of value that they will get out of the webinar.
This can help you build stronger relationships with key accounts, and it can boost the authority and trust of your brand. Sending personalized invites out to hot leads is also a great way to fill them with confidence in your business to close a deal.

16. Turn Your Webinar into a Regular Series
A once-off webinar will get you some attendance, but a regular series of webinars will allow you to build up a bigger, more engaged audience.
If you're using webinars to grow your business, then hosting a regular webinar series is definitely the best approach. With each webinar, your audience will grow a little bit bigger. Regular events also make it easier for registrants to remember the webinar, and attend each time.
To do this, create a name and general theme for your webinar series. Maybe you could run a webinar once a month, or once a week. Set a recurring date, and make this a regular thing to promote. Doing this will help you build momentum, and gain your webinar series more popularity.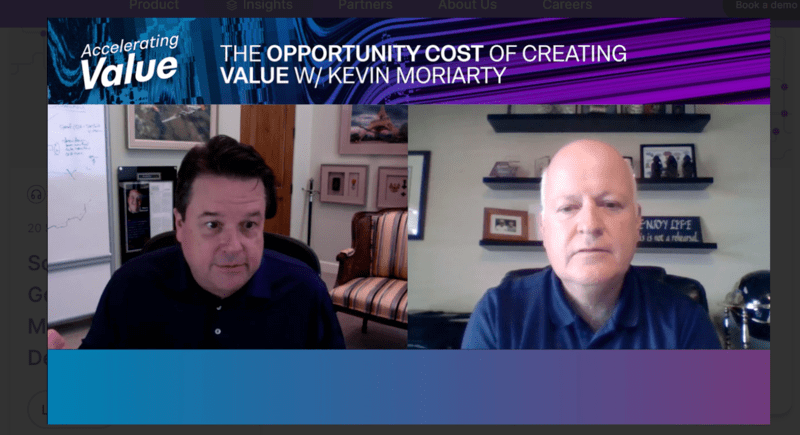 Example of a weekly webinar series titled "Accelerating Value".
17. Promote Your Next Webinar On Your Current Webinar
Your webinar promotion should start as soon as the previous webinar ends. In fact, it should start before the webinar ends.
At the end of your webinar, take a moment to tell your audience about your next webinar, what the topic is, and when it will take place. This lets you directly promote the webinar to an audience of already interested people. If they liked the webinar they're on, there's a good chance they will join the next one.
You can also make an email list of all attendees, and send them a personalized invite to the next webinar. Chances are, these people will be more likely to join a webinar because they already trust your business and are excited to see more of what you can offer.

18. Utilize Popups and CTAs on Your Website
If you're going to make the most of your marketing real estate, you should be using your website to promote your webinar.
Publishing popups and CTAs across your website will help you turn your site visitors into registrants. This is a great way to build interest in your business while attracting more attendees to your event. Just a simple description of the webinar with a clear call to action (leading to the registration form) is all you need.
With a tool like Wishpond, you can create easy popups and forms to publish anywhere on your website.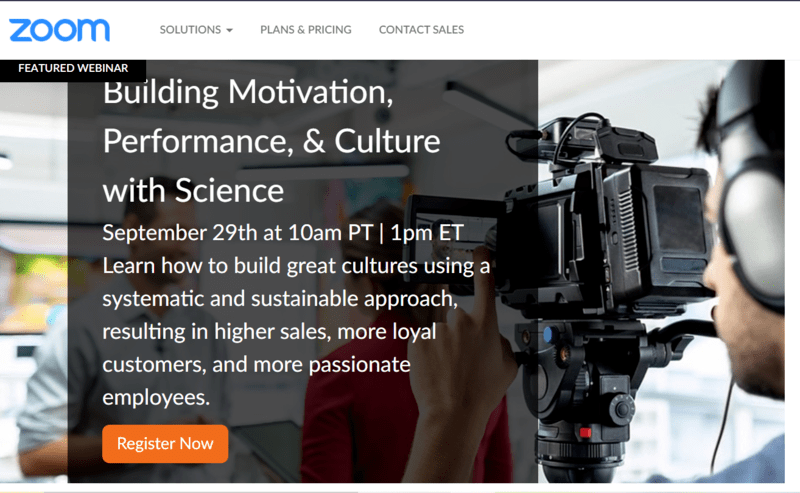 19. Promote Your Webinar on Live Social Media Streams
We've already mentioned the importance of marketing your webinar on social media platforms, and live streams are one of the best strategies you can implement.
Schedule a live stream before the webinar where you'll introduce yourself (the host), cover the topic of the webinar, and accept any questions and comments from your audience.
This will help you get people excited about the webinar, and it will allow you to start getting your personality out there before the event. Live streams add a more human, personal element to marketing, and they're a great way to build up your webinar. Make sure to include a CTA during your stream to get viewers signed up.
20. Create a Promotional Video
Video marketing is incredibly powerful. Video is one of the most exciting and engaging forms of online content. This means a promotional video for your webinar is an effective way to drive lots of interest in your event.
All you need is a fun and simple video highlighting the topic, introducing the guests, and telling viewers how to register. This could be an animated video or just a simple selfie video. You can post this on social media, share it in your stories, and even use it in ads.
21. Use the Best Video Conferencing Tools for Your Webinar
This isn't necessarily a webinar promotion tactic, buts it's a really important thing for offering a good webinar experience.
In order for your webinar to be a success, you need to host it on a great video conferencing tool. This needs to be a platform that you and your audience are comfortable with. A great platform means no technical difficulties, which results in a better quality webinar.
A great approach is to use a video conferencing tool that allows you to stream the webinar across different platforms. You could do a single webinar across Zoom, YouTube Live, and Facebook Live at the same time – allowing you to tap into different audiences on each of these platforms. This also means your audience will have more options to choose a streaming site that they are more comfortable with – which should boost your attendance levels.

22. Use Wishpond to Promote Your Webinar
Effective webinar promotions require the right digital marketing tools. By using Wishpond, you can access all of the promotion tools you need from one easy platform.
This includes email marketing, creating landing pages, popups, online forms, marketing automation, and more. Instead of subscribing to numerous promotion tools, you can get them all in one place.
On top of this, Wishpond offers a team of marketing experts who can create and manage your campaigns for you. Get your own designers, video editors, ads specialists, and more.
Book a demo today if you're keen to get started.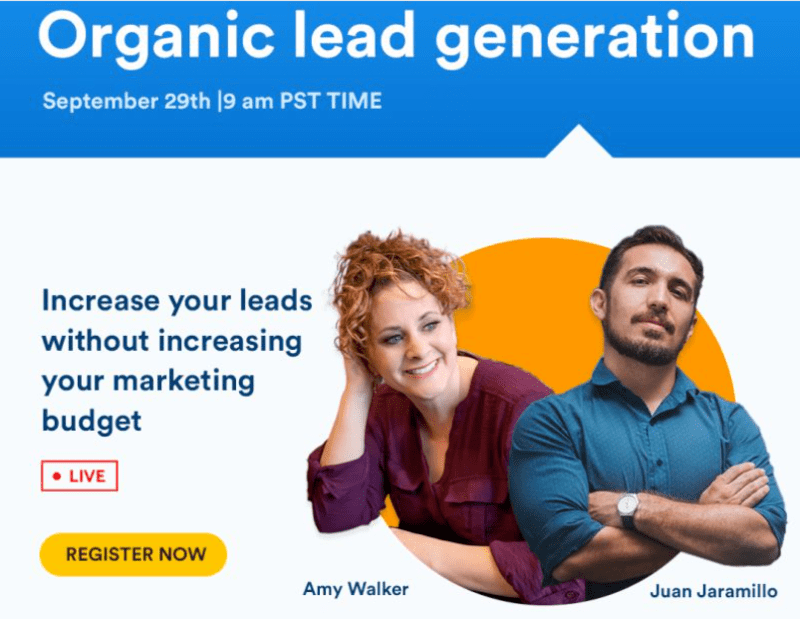 Summary
These 22 best practices for promoting your webinars will make a major difference to your webinar attendance levels. Follow these strategies, put some effort into your promotions, and you'll increase the number of attendees in a big way.
Webinars are awesome tactics for lead generation, promoting products, and boosting the popularity of your business. If you get your webinar right, it could have an amazing impact on your business.
Have you got any experience promoting webinars, or have an upcoming webinar you'd like to discuss? Reach out in the comments below.

Related Content